STEEP SLOPE STONE LINES (STEEPS):
THE SLOPES:
According to "Perceiving 'Walk-on-able' Slopes by J.M. Kinsella-Shaw, et al" the participants would "...walk up the ramp comfortably, at an ordinary pace, while maintaining upright posture and making full "flat-footed" contact..."
Depending on the participant the maximum slopes traversed were 22% to 32%.
Using only manual labor to lift, stack and manipulate stones weighing hundreds to thousands of pounds on a flat surface would be difficult at best. On a 30% plus slope it is impossible.
A WALL UNSEEN describes accessing a stone line on a steep slope.
The examples below are extreme slopes of 50% to 80% where even modern equipment such as tractors cannot traverse.
Slope percentage is calculated using CalTopo.com.
The Shasta Steep Slope Map shows the locations of over 85 stone lines with slopes segment of 50% to 80%.
DROP LINES:
One type of repeating steep slope line shows up in several clusters has been nicknamed a 'drop line'.
It runs from the top of a bluff to the bottom of the bluff and generally just ends near the bottom of the hill.
This section will be enlarged when time permits. The top 3 photos in the right column contain drop lines.
EXAMPLES:
The stone line pictured below (sv_over_50_stone_line_085) has two extreme slopes.
A 70% slope segment on the east side. The west side contains a 66% slope segment.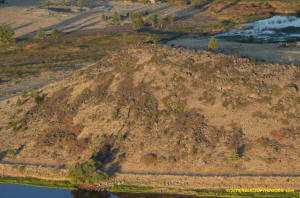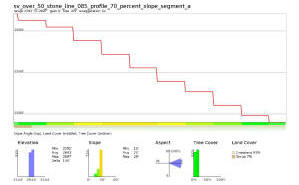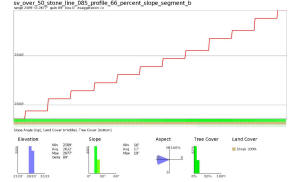 ---
This drop line (sv_over_50_stone_line_059) has an average slope of 61%.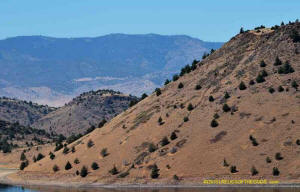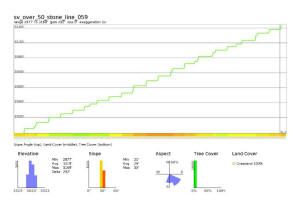 ---
This line (sv_over_50_stone_line_002) averages 50% slope and has a slope segment of over 70%.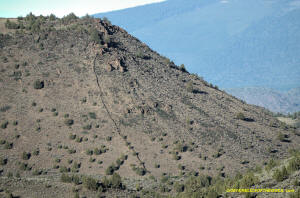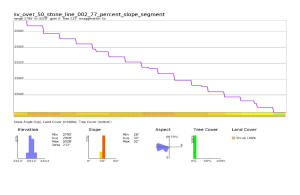 ---
These lines (sv_over_50_stone_line_054 and 055) are on a slope approaching 80%.
---