THE EAST BAY WALLS:
Of all of the stone line clusters the most famous is The East Bay Walls. Far more has been written about The East Bay Walls 30 +\- miles of stone lines than all of the other 770+ miles of stone lines in the state put together.
LOCATION:
The East Bay Walls consist of Four seperate clusters and a few scattered miscellanous stone lines. These clusters are in an area about 45 miles long and 5 miles wide.
Map Legend:
Yellow = Stone line
Green = Stone line on a 50%+ grade (Steep)
Peach = East Bay Walls Area Boundary
Light Blue = Cluster Boundary
(click images for full size map).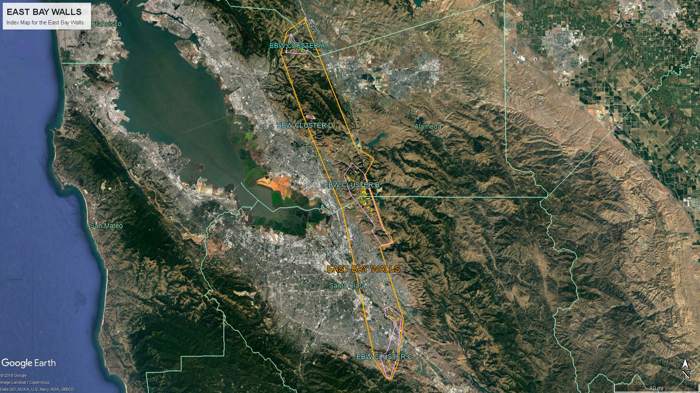 Cluster A is the northern most cluster and is the second largest cluster.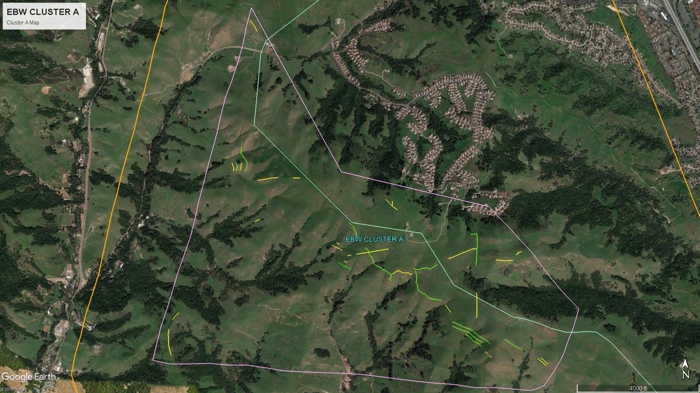 Cluster B is the largest cluster and the area most commonly associated with the name East Bay Walls.
Cluster C is two small clusters seperated by developed land.
Cluster D is the smallest cluster with only a few lines.